Navigating the Obstacles for Getting a COVID-19 Test in East Tennessee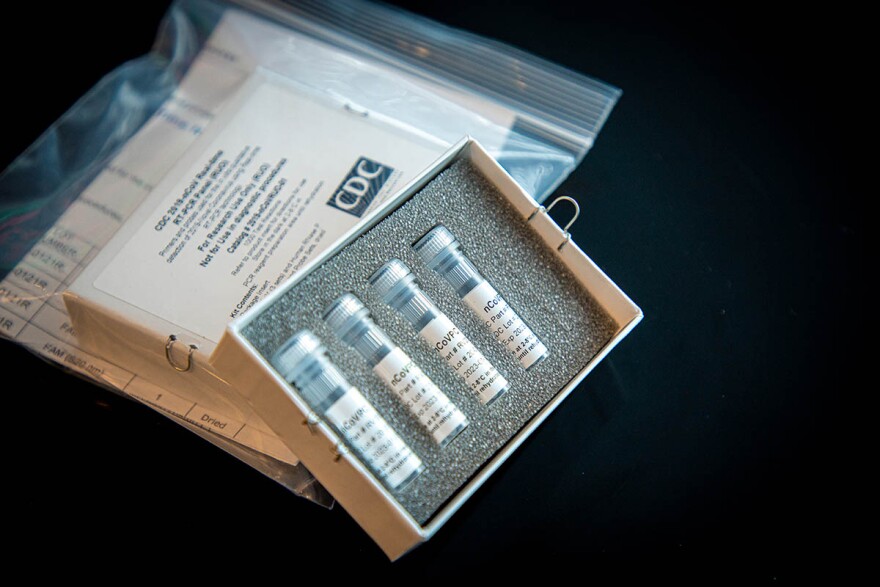 It's been more than two weeks since President Trump toured the Centers for Disease Control in Atlanta and said, "Anybody that needs a test gets a test." But people across the country, and in East Tennessee, still haven't seen widespread testing.
The Knox County Health Department Director Martha Buchanan says this is a top question people are asking on its COVID-19 public information line.
"There's a ton of questions about testing, lots and lots and questions about testing," Buchanan said. "People who want to be tested but can't get tested, or are unable to get tested."
WUOT News spoke with a Knoxville resident who called the hotline, seeking information. He was diagnosed with an undefined viral illness in early March. He was prescribed an inhaler, started feeling better and went to work and out with friends. But one week ago, he woke up with a sore throat and called the county health department during his lunch break at work. He asked WUOT not to disclose his name due to the stigma attached to COVID-19.
"The first woman that I spoke to said, 'From all the symptoms that you're telling me about, it does sound like you meet our criteria. We're going to have someone call you back,'" he explained.
But the official who called him back later told him he actually didn't qualify for testing. He hadn't traveled out of the country recently, and his highest fever was at 100.3, one-tenth of one degree short of the official threshold. That didn't sit right with him.
"I'm not so much concerned with my health and if I'm going to make it, but I'm concerned about other people because I do come in contact with a lot of people and I have come in contact with a lot of people," he said. "I feel it's responsible to get my health addressed so that way I can help the rest of the public."
He went to his doctor who told him to continue to just monitor his symptoms. But after reading more research about people with mild symptoms carrying the virus and thinking about his family, he decided to call a hospital.
"My grandmother was a nurse practitioner, and this is what she'd want me to do if she was here," he said.
The hospital, too, initially turned down his request for a COVID test. The second time asking, the hospital agreed to administer the test. He was still waiting for the results six days later. But he's one of the people concerned about their symptoms who actually got a test. Despite promises from some elected officials, getting tested for COVID-19 is not necessarily straightforward.
Starting Monday, Knoxville company said it's making 10,000 COVID-19 tests available for health care providers, and analysis will be done locally for faster results, according to reporting by WATE. But even with extra tests, many Tennesseeans are still unsure of where and how to get tested. Public health agencies have different criteria than private labs. Here's the guidance World Health Organization spokesman Tarik Jasarevic gave earlier this month:
"You cannot fight a fire blindfolded, and we cannot stop this pandemic if we don't know who is infected," Jasarevic said. "We have a simple message for all countries. Test, test, test. Test every suspected case."
But there has been debate about who is a suspected case. A preliminary study recently published by the CDC estimates 12 percent of people who have been infected by COVID-19 got it from someone who didn't show any symptoms yet. But in Tennessee, the rule has been that only those with symptoms get tested. Tennessee Department of Health Commissioner Lisa Piercey described a kind of triage in determining who is tested for COVID-19.
"There are only a certain number of people that present for assessment that need screening," Piercey said. "We are prioritizing healthcare workers, those over 65, and those that are hospitalized in our prioritization for testing."
In Knox County, the health department has so far maintained strict guidelines for who they will test, and who they won't. Officials say this is not only because of a limited number of tests, but also a limited supply of protective personal equipment -- such as surgical masks -- for the healthcare workers who interact with the patients.
"The health department is following a little more narrow guidelines because part of our job is to identify those cases of people that truly have disease," said Knox County Health Commissioner Martha Buchanan.
Buchanan said this past week that allergies and other respiratory illnesses are still more likely in East Tennessee than COVID-19. As of Friday, community spread of the virus had not been confirmed by officials in Knox County. But Buchanan has said it's inevitable.
Local immunologist Barry Rouse says scientists still don't know whether individuals can carry the virus without any symptoms.
"Unless to test everybody, which we do not have the capacity to do, you won't know who is infected," Rouse said. "I'm completely unsure in the case of this virus how soon after infection you start secreting infectious doses of virus."
Tennessee's state lab has run more than 900 tests, but the bulk of confirmed cases in the state are from private labs. Until this week, those labs were reporting only the positive test results, so officials didn't know the total number of people being tested.
Knox County's Health Department says it's looking into setting up a "drive-through" assessment and testing site. But in East Tennessee, there are currently just six remote assessment sites reported. Anyone who visits can be evaluated, but there is no guarantee of getting a test. For those that can't drive to one of those remote assessment sites, testing decisions fall into the hands of local doctors and local hospitals. Or like the Knoxville resident who has been waiting for his results, three doctors later.
East Tennessee Remote Assessment Sites
Note: Knox County does not currently have a remote assessment site. Instead, Knox County Department of Health's public information line is doing preliminary phone screenings for local COVID-19 test referrals. The number is (865) 215 – 5555, accessible 8 a.m. to 4:30 p.m. on weekdays.
Blount County
East Tennessee Medical Group, 266 Joule St.
Alcoa, TN 37701
865-984-3864
Claiborne County
Tazewell Drug and Express Care 951 N Broad St,
Tazewell, TN 37879
423-259-8661
Greene County
Greeneville Community Hospital East, 1420 Tusculum Blvd
Greeneville, TN 37745
833-822-5523
Hawkins County
Hawkins Co. Memorial Hospital, 851 Locust St,
Rogersville, TN 37857
833-822-5523
Roane County
Summit Medical Group (drive thru) 933 W Race Street Kingston, TN 37763
865-882-0105
Note: Current Summit Medical Group patients only
Union County
Maynardville Express Care 2975 Maynardville Hwy Maynardville, TN 37807
865-658-5353
*See all of the state's remote assessment sites on Tennessee Department of Health's website.