EPA seeks feedback on EtO emissions at DeRoyal Industries' sterilization plant in New Tazewell
In a series of public meetings, the Environmental Protection Agency has been talking to citizens about the risks of ethylene oxide, or EtO, to human health. The invisible, odorless gas is used at about 86 facilities across 33 U.S. states for sterilizing medical equipment and food.
Ethylene oxide has been largely unregulated for decades. As scientific evidence about its risks has emerged, the EPA has begun to set stricter guidelines for controlling EtO emissions.
"Unfortunately, fugitive emissions are not covered under the current regulations because when that regulation was written, their importance was not fully understood," said EPA representative Seneca Anderson at an October 2022 meeting in New Tazewell, Tennessee, which is home to a sterilization plant owned by DeRoyal Industries.
The EPA declared EtO to be 60 times more dangerous than previously thought, posing a specific risk to workers, residents living in the vicinity of EtO's use, and children. Specifically, the EPA says the maximum cancer risk level in New Tazewell runs up to 3,000 in a million - that's in addition to cancer risks from other causes. An "acceptable" cancer risk level, per the EPA, is about 100 in a million.
DeRoyal has used EtO to sterilize medical products in New Tazewell since 1987. Air quality permits filed with the Tennessee Department of Environment and Conservation show the company was always in compliance with standards set at the time.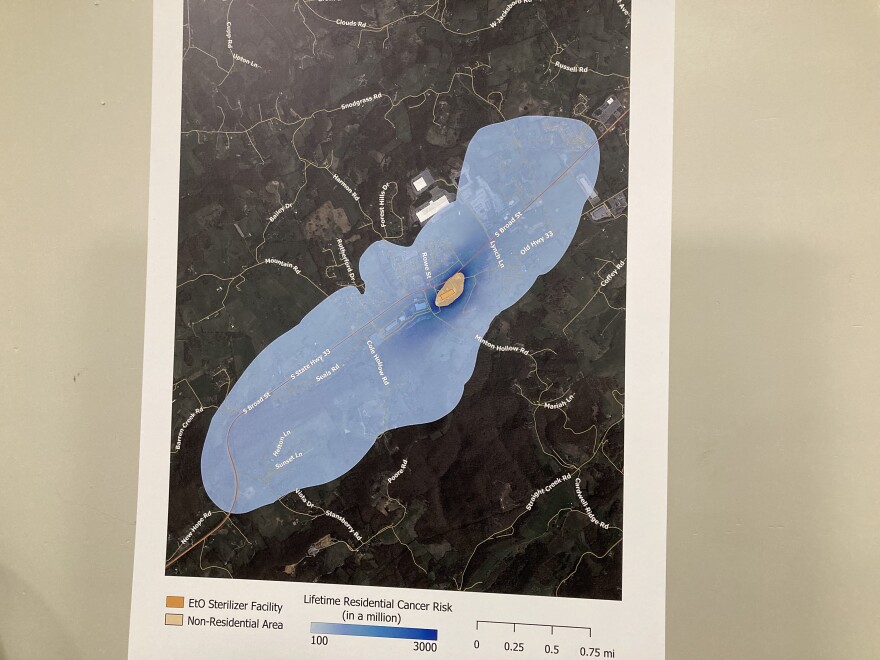 Few residents attended the EPA's first meeting in New Tazewell, a town of about 3,000 in Claiborne County.
"I'm surprised that this auditorium isn't full of people," one resident remarked.
Joe and Amy Payne, long-time residents of New Tazewell, were particularly interested in the EPA's actions following Amy Payne's diagnosis with cancer.
"We don't know what caused this cancer. They think it's a toxin - that's what [doctors] told us," Joe Payne said in an interview. "They don't know whether it was radon or some other environmental toxin that maybe we breathe or she ingests."
They both attended the EPA's October meeting. "We almost live within the site of the sterilization facility," he said. "There is a Christian school between us and the facility."
At the EPA's second community meeting on June 1, Joe Payne attended alone; Amy Payne died in May. The headmaster of the school he mentioned, Heritage Christian Academy, was in attendance this time.
"This was really the first I'd heard of this," Gail Leonard said. Addressing the EPA officials, she said: "There is a tremendously high rate of cancer at that school. I'm the headmaster there. In the last six years, we've had nine teachers develop cancer; three of those in their 30s and 40s died … Of the faculty of 14, that's over 50% of our teachers."
The Tennessee Department of Health is currently conducting a cancer cluster study in New Tazewell. Claiborne County is currently fourth out of 95 Tennessee counties for new cancers, according to the state's cancer registry.
DeRoyal said in an emailed statement that the company has been working with consultants to prepare for new emissions standards.
"We have listened to the comments of our Claiborne County neighbors and we understand the public health concerns they have expressed…DeRoyal remains diligent in our work towards compliance with the stricter standards presented in both [EPA] proposals," President and CEO Brian DeBusk wrote in a statement to WUOT.
The EPA is expected to issue new regulations on emissions standards, and recommended safety measures for workers and affected residents, sometime this summer. The public can comment on the proposed rules anytime before June 27.